The Party Structure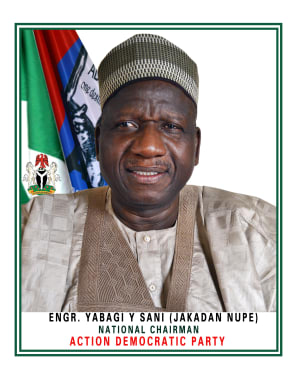 The National Chairman
The role of a party chairman/chairperson is often quite different from that of a party leader. The duties of the chairman/chairperson are typically concerned with the party membership as a whole, and the activities of the party organization. Chairman/chairperson often play important roles in strategies to recruit and retain members, in campaign fundraising , and in internal party governance, where they may serve as a member of, or even preside over, a governing board or council. They often also have influence in candidate selections, and sometimes in the development and promulgation of party policy.
Board of Trustee Members
The ADP Board of Trustees (BoT ) is a constitutionally mandated body within the Action Democratic Party of Nigeria that provides advice and counsel to the leadership of the National Working Committee and staff. It is regarded by the party's constitution as the conscience of the party.
National Excutive Council Members
The ADP National Working Committee, also known by its acronym NWC , is the executive committee of the Action Democratic Party in Nigeria.The NWC is composed of 12 members, all of whom are elected to a four-year term at the party's National Convention. The NWC is headed by the Chairman who also functions as the party's National Chairman. The NWC has the responsibility for the day-to-day governance of the party as well as oversight of its national activities.
List of State Contacts
Below is the list of contact numbers of all states, Feel free to contact according to your location, For your Membership Cards.
---
Abia State
Tel: 08136955927.
Akwa Ibom State
Tel: 09094124246 or 07033515520
Anambra State
Tel: 09075060614
Adamawa State
Tel: 08033155520
Bauchi State
Tel: 07082829833
Bayelsa State
Tel: 08033101479
Benue State
Tel: 08061127247
Borno State
Tel: 08092872143
Cross River State
Tel: 08136087951
Delta State
Tel: 07037779392
Ebonyi State
Tel: 08130507406
Edo State
Tel: 08033546467
Ekiti State
Tel: 08032251639
Enugu State
Tel: 08033925851
Gombe State
Tel: 08060273899
Imo State
Tel: 08037799965
Jigawa State
Tel: 08065499128
Kaduna State
Tel: 07036972356
Kano State
Tel: 08036968198
Katsina State
Tel: 08033669262
Kebbi State
Tel: 08162213468
Kogi State
Tel: 08035879752
Kwara State
Tel: 08168212151
Lagos State
Tel: 08023047501
Nasarawa State
Tel: 08186888392
Niger State
Tel: 08035888020
Ogun State
Tel: 07032331661
Ondo State
Tel: 08034832170
Osun State
Tel: 08034546154
Oyo State
Tel: 08033851592
Plateau State
Tel: 08037009359
Rivers State
Tel: 07034011482
Sokoto State
Tel: 08033499651
Taraba State
Tel: 08033531991
Yobe State
Tel: 08022645835
Zamfara State
Tel: 08033916994